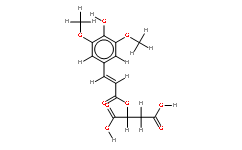 Sinapoyl malate
Chinese name :
芥子酰基苹果酸酯
Synonym :
(+)-sinapoyl malate;
Product ID:
PR0145999
CAS NO.:
76656-81-0
Formula:
C15H16O9
Weight:
340.282
EIENCS:
Product Inquiry

Sinapoyl Malate
Introduction:
UV-B Protectant and Sunscreen scream material.An essential UV-B screening agent in plants.sinapoyl malate displays anomalous spectral broadening extending well over 1000 cm−1 in the UV-B region, presenting the tantalizing prospect that nature's selection of UV-B sunscreen is based in part on the inherent quantum mechanical features of its excited states.

Application:
1. Sunscreen Cream
2. Cosmetic products
3. BB cream


Warm Tip:
Our products are belong to semi-finished raw materials, they are only sold to manufacturers of food , beverage, cosmetic with related qualifications or related circulation companies, not for personal sales or direct consumption.