When we describe human skin, we often say that it is as soft as cream and very delicate. ... It seems that our skin is made up of tender water and soft snow. But for those who specialize in researching skin, it's like a "wall"! A wall made of bricks and cement. And 50% of the lipids in this cement are the famous "ceramides", the "king of moisturizing" and the "king of the barrier", which are the focus of our attention today.
Ceramides are famous and powerful, but that doesn't mean we really understand them.
For a long time, we have been unable to find any data on the efficacy of single ceramides on mainstream academic platforms. If we don't figure out the efficacy of single ceramides, on what basis are they? Which is strong and which is weak? What is the difference in the application? This shows that our current compounding and application of ceramides lack scientific basis or basic logic!
A breakthrough, starting with a single ceramide efficacy test
Shenzhen Dieckmann Biotechnology Co., Ltd(hereinafter referred to as "Dieckman") is a high-tech enterprise that has spent a great deal of time and made great effort in the research of ceramides. After repeated tests, Dieckmann discovered that the solubility and tolerance of ceramides in cells was the main obstacle to testing the efficacy of single ceramides, which is a worldwide problem! And this problem has been solved by Dieckmann!
We will take the most recognized ceramide 3 and ceramide 3B (hereinafter referred to as Cer-3 and Cer-3B respectively) as examples, from structure to properties to efficacy, to clarify the differences in efficacy and constitutive relationships, and to find the real scientific basis for the next ceramide formulation applications.
Differences in the structure and properties of Ceramides 3 and 3B
Firstly, let's get to know the ceramide NP as it is often referred to in industry circles.
NP is compound of different non-hydroxylated fatty acids (N) with phytosphingosine (P) respectively, as shown in the following diagram: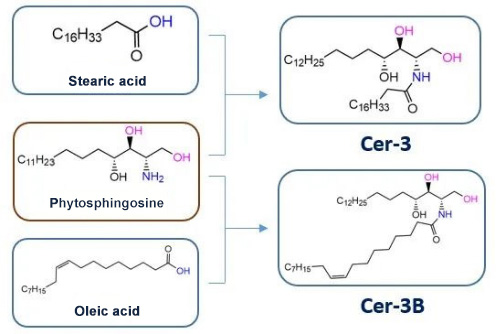 Stearic acid combines with phytosphingosine to form the ceramide NP known as ceramide 3 (code:Cer-3); oleic acid combines with phytosphingosine to form the ceramide NP known as ceramide 3B (code : Cer-3B).
So, structurally speaking, ceramides 3 and 3B are prepared simply by using different fatty acids. Stearic acid is used in the former and oleic acid in the latter. It was found that the emulsification and solubility of 3B were more advantageous compared to ceramide 3. This is explained by the molecular structure: stearic acid is a saturated fatty acid, whereas oleic acid is an unsaturated fatty acid. This finding has enormous reference implications for the use of ceramides in formulation systems.
The difference in efficacy between Ceramide 3 and 3B
Regarding to the efficacy, Ceramide 3 and 3B differ in terms of moisturising properties, safety, anti-inflammatory power and repair:
1. Safety: Ceramide 3B > Ceramide 3
Our skin is healthier and in better condition when cells show abundant vitality. According to Dieckmann's research, the addition of Cer-3B resulted in a significant increase in cellular vitality and showed a concentration correlation that was superior to that of Cer-3. This shows that Cer-3B has a higher safety margin in application and allows for greater cellular viability.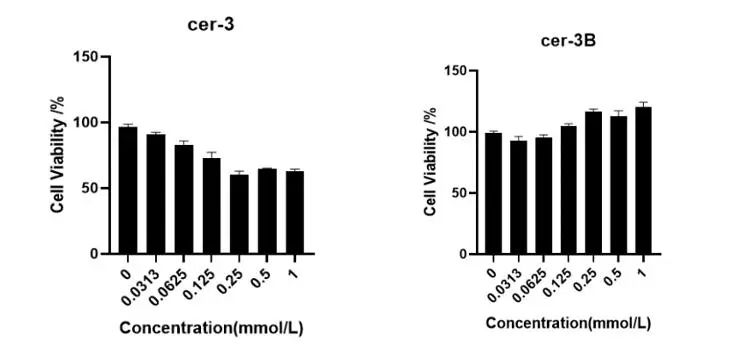 2, Moisturising properties: Ceramide 3B > Ceramide 3
First of all, let's know a substance in the cell membrane: aquaporin 33 (AQP3). AQP3 is a transport protein responsible for the transport of water, glycerol and urea, and is mainly expressed in keratinocytes and skin fibroblasts. AQP3 is not only involved in skin hydration and barrier function, but also plays an important role in skin damage, repair and healing, and is essential for the maintenance of normal skin form and function.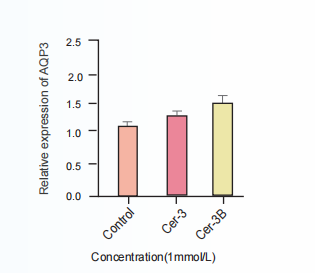 Dieckmann Biotechnology found that both Cer-3B and 3 increased the relative expression of AQP3, but 3B performed more prominently, meaning that, with the help of 3B, our skin could receive more water and nutrients more smoothly.
3,Anti-inflammatory properties: Ceramide 3B > Ceramide 3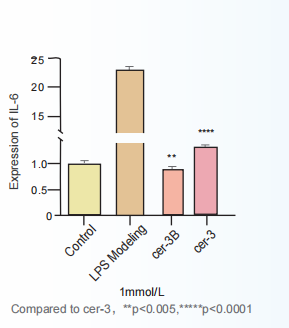 When inflammatory factors are inhibited, the inflammatory response of the skin is reduced. D
i
ec
k
mann
Biotechnology
has demonstrated through experiments that
Cer
-
3B is more effective in inhibiting the expression of inflammatory factors
and is more effective in repairing
inflammation-damaged skin.
4,Healing ability: Ceramide 3B > Ceramide 3
When the cells grow into a monolayer state, use a scratch tool to create a blank area on the fused monolayer cells. The cells in the blank area are removed by mechanical force. After a period of culture, observe the cells to the cell-free area. The situation of migration reflects the migration ability of cells by measuring the migration distance of cells. It was found that with Cer-3B, the migration ability of the cells was stronger.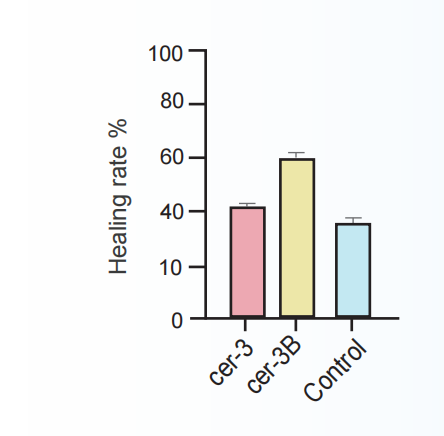 The researching pioneer of Ceramide——Shenzhen Dieckmann
We are the first to solve the single ceramide efficacy test problem, providing a scientific basis for the efficacy claims of ceramide; the first to study the biochemical experiment data of ceramide: cell proliferation, moisturizing, anti-inflammation, healing, and improving elasticity; continue to share research results and efficacy differences of ceramide , to provide industry formulators with a scientific basis for formula application; successfully design and develop new ceramides, and create a new track for new products and new effects of ceramides.